Snowbike rides and the "belt animals" in Slóðavinir, Iceland - Let's be Inspired by Iceland and enjoy the ride in the YouTube film in the article!
Iceland is a small country, but great nation with close to 150 motorcycle, ATV and snowbike clubs and associations. It is common for families to be together in motorcycle, snowbike and ATV-sports in Iceland. Let's be Inspired by Iceland!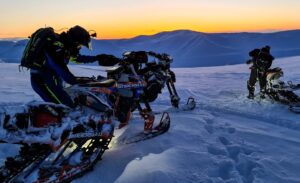 150 motocycle, ATV and snowbike clubs
Iceland are again getting global focus as the vulcano Fagradalsfjall not far from Reykjavik has come alive. But did you know that there are close to 150 motorcycle, ATV and Snowbike clubs and associations in Iceland? Read and enjoy the YouTube video in the end of the article.
Most of these belt-motorcycles are street-registered enduro motorcycles with an engine size from 450cc up to 600cc +, brands do not matter, but there are KTM, Yamaha, Husaberg, Honda and more brands. Slóðavinir has a website and it is www.slodavinir.is
Live feed from the vulcano via this link.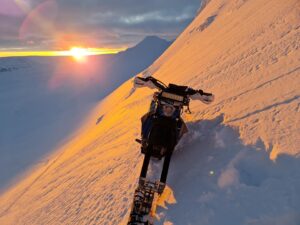 The largest motorcycle association is called the Motorcycle Association of the Republic of Iceland the Snails (Bifhjólasamtök Lýðveldisins Sniglar). It is usually called The Snails and was founded in 1984, and are similar to Norsk Motorcykkel Union, NMCU, in Norway. And Iceland: Population of 356,991 and an area of 103,000 km2 (40,000 sq mi), making it the most sparsely populated country in Europe. But a very unique place to live and experience as tourist or on motorbike, ATV, car or like you an read here on belt animals!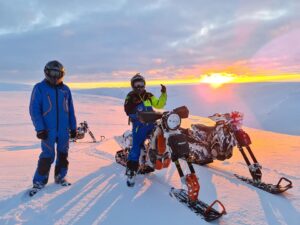 Then the small clubs that are often brand-related in street motorcycles like BMW, Harley-Davidson. and also motorcycle clubs from the North at Akureyri, the Westfjords, the Westman Islands and other smaller clubs. The off-road motorcycles include many sports clubs, competition clubs around motocross and enduro.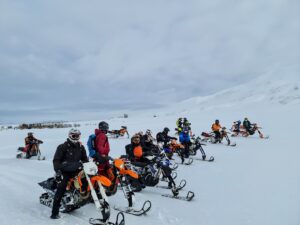 Unique clubs: Ferða og Útivistafélagið Slóðavinir
One club stands out and fights for the interests of those who own ATVs and enduro-motorcycles and are traveling around Iceland on bad old roads. This association is called Ferða og Útivistafélagið Slóðavinir, but in this association there are a lot of families where the whole family is on ATVs and enduro-motorcycles mixed, and travels a lot around Iceland on roads in the summer and then rides on snow and icy lakes in the winter.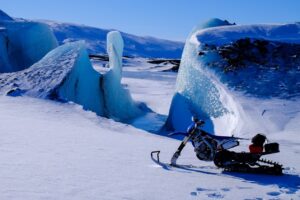 Roads in summer and on snow belts in winter
In recent years, many Slóðavinir have bought snowmobile equipment for motorcycles and ATVs to ride on snow.
One family is the most diligent of all Slóðavinar to go on winter trips on snow belts.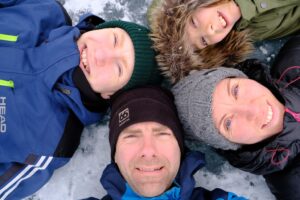 Kristján Már Arnarson started on one ATV in Slóðavinur just over 10 years ago, but now the toy fleet has become two enduro motorcycles and the good old ATV, but all these bikes are fitted with snow belts in the winter and the whole family goes on long trips to the North where the snow is heaviest during the winter in Iceland and now the whole family has come with him to this fun sport (Kristján (40),  Nina (38), Daníel (15) and Katrin (10).
Kristján takes a lot of pictures on these trips and sometimes he also makes videos, but Ferða and Útivistafélagið Slóðavinir hold an annual photo competition and more often than not Kristján works with a picture from these family trips of beautiful snow pictures.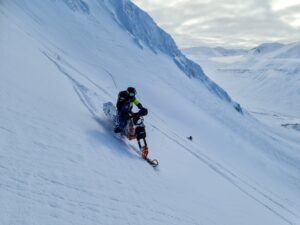 Belt animals – Snowbike rides
The annual trip of the "belt animals" in the Slóðavinur club this year was March 11-14. Most of the photos in this article is taken close to Akureyri north in Iceland.
There are many divisions in Slóðavinir and one of them is a "snowbike division", where Kristján has been the main motivator to go on several days of snowbike rides up in the highlands of Iceland or where there is a lot of snow. Kristján took most of the pictures with this article on several trips, either where he was with his family or with his friends in Slóðavinir, but those who are equipped with crawler motorcycles are often called "belt animals". This year, Slóðavinir's belt bike trip to Akureyri took place on March 11-14.
There were 13 Friends of the Trail who came to the trip and they rode a lot, into the gorge, up into the mountains as there is a lot of snow in the north of Iceland. The ride was good and everyone had a good time during the three days on the bikes. Kristján took a lot of pictures that say that it has clearly been fun.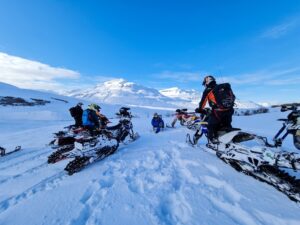 For more about Iceland and motorcyckles, ATV and tours:
Come and join us in Iceland! Les her om en annen tur rundt Island med Hjörtur L. Jónsson. 
If you are dreaming about, or planning, a motorbike ride around Iceland you can get in contact with Hjörtur L. Jónsson via: Hjörtur L. Jónsson, Ásgarði 53, 108 Reykjavík and mobile number +354-694 9097.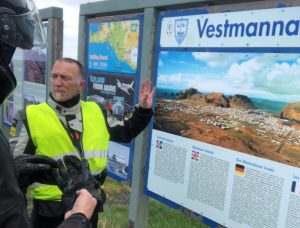 Del denne artikkelen på sosiale medier
Flere nyheter fra Reitwagen.no